A FREE screensaver for Mac OS X, Inspired by the Matrix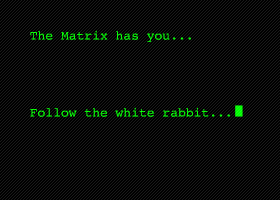 A simple screen saver for Mac OS X which displays the same messages Neo received on his computer screen when first contacted by Morpheus. This is a VERY simple screen saver, with a very subtle Matrix theme.

I made this a LONG time ago, and is quite dated. At the time I was simply messing around in Flash, toying with integrating Flash movies into screen savers and the like. Left it on my screen one day, left for lunch, and when I came back had a bunch of people ask me where I got it. So...here it is. Some people liked it, so I decided to post it and share. I've received numerous emails asking me to "cuszomize" the screen saver with custom names and all kinds of messages, and unfortunately am unable to do so. WakeUpNeo is supplied as-is.

Hope you enjoy!


System Requirements
Mac OS X Tiger 10.2.x - Mac OS X Leopard 10.4.x PPC

NOTE: There is limited functionality in Mac OS X 10.5.x. Currently unsupported. Mileage may vary.


Additional Requirements
Mac OS X 10.2 or later
Safari
Flash plugin installed
Download
Release Notes
1.0.0 (12-08-2005)